Changing my coffee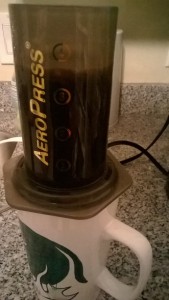 The Best Wife Ever ™ got me an AeroPress for Christmas. This is to replace the Keurig she got me a few years ago.
Why change? The Keurig is nice, makes decent coffee, easy to use. However the AeroPress makes better coffee, still easy to use and I wont fill the landfill up with plastic cups. Also next time I go camping I wont be using instant and the Keruig is a little big to drag around on the back of the bike with me.
It's also much easier to use your own coffee with than the Keruig, I had an EkoBrew cup and Keurig's reusable cup but neither worked great and were a bit of a hassle. This is much easier to use. Easy to clean up as well.
So, on another note, I have a Keurig for sale, anyone want one?